This lavender-based soap is a classic in the making. The floral scent will bring to mind fields of summer flowers. The exfoliating cornmeal will help revive your skin.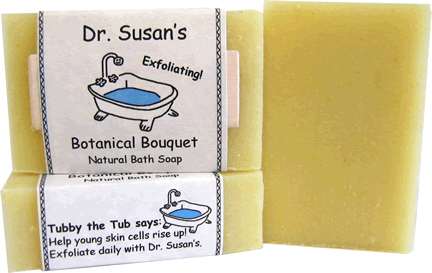 Botanical Bouquet is hand-crafted with:
Saponified oils

Olive moisturizes and cleanses
Coconut improves lather
Palm hardens bar

Rosewood,lavender, & geranium essential oils naturally scent bar
Cornmeal exfoliates
Honey moisturizes
Grapefruit seed extract naturally preserves bar
Each bar also includes the glycerine that is naturally produced in soap-making.
Dr. Susan's Natural Bath Soaps.
Good for you. Good for the earth.
---
(208) 461-2135