Come clean naturally...
with Dr. Susan's Natural Soaps
Our soaps contain only ingredients found in nature.
Our soaps do not contain:

animal products
synthetic colorants
artificial fragrances
artificial preservatives
petroleum products

We don't skimp on essential oils, so our fragrances are full-bodied and refreshing.
Labels list all ingredients and explain their functions.
Tubby the Tub, the smiling logo, shares a different playful hint on each product line.
Some customer testimonials:
"....Greatest stuff I ever used."
SS in Nampa, Idaho
I recently discovered your wonderful soap. [It] stood out due to its intoxicating and therapeutic scent...."
TB in Boise, Idaho
"....This is the best soap we have ever used. It does not burn or irritate in any way and leaves the skin soft."
CC and RC in Paso Robles, California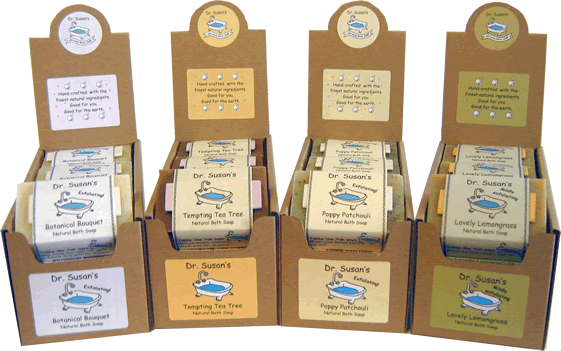 Dr. Susan's Natural Bath Soaps.
Good for you. Good for the earth.
---
(208) 461-2135