The ancient Romans bathed with lavender for its antiseptic properties. Modern Romans (and others!) like it for its calming properties. Trouble sleeping? A warm bath with Dr. Susan's Lavish Lavender before bed may be the answer!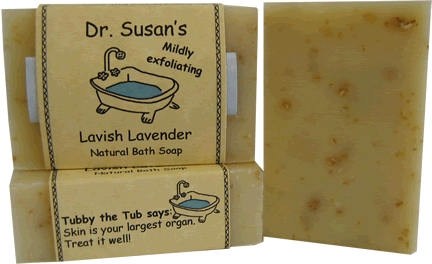 Lavish Lavender is hand-crafted with:
Saponified oils

Olive moisturizes and cleanses
Coconut improves lather
Palm hardens bar

Lavender & geranium essential oils naturally scent bar
Oatmeal exfoliates
Honey moisturizes
Grapefruit seed extract naturally preserves bar
Each bar also includes the glycerine that is naturally produced in soap-making.
Dr. Susan's Natural Bath Soaps.
Good for you. Good for the earth.
---
(208) 461-2135