Smells so good, you may be tempted to eat it, but trust us, you can find plenty of tastier snacks. However, you might not be able to find a more refreshing and invigorating soap!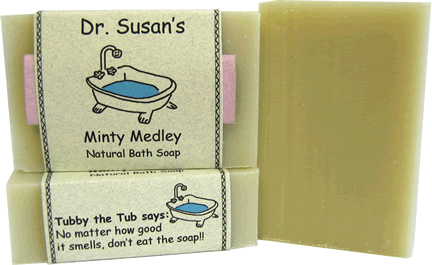 "The Minty Medley bar is so refreshing and the aroma is delightful....This is the best soap we have ever used."
CC and RC in Paso Robles, California
(Read their full testimonial and other customer's comments.)
Minty Medley is hand-crafted with:
Saponified oils

Olive moisturizes and cleanses
Coconut improves lather
Palm hardens bar

Peppermint, rosemary, & vetiver essential oils naturally scent bar
Green clay colors bar
Honey moisturizes
Grapefruit seed extract naturally preserves bar
Each bar also includes the glycerine that is naturally produced in soap-making.

Dr. Susan's Natural Bath Soaps.
Good for you. Good for the earth.
---
(208) 461-2135